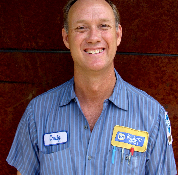 Craig
Owner/ASE Certified Technician
Hello! I'm Craig. I've began working with my dad in the auto repair industry in 1975. Our first repair shop was the old Granite Reef Shell on McDowell Road. Prior to that, I worked with my Grandpa in his Shell gas station in Old Town Scottsdale. I was gone three years to Minneapolis, Minnesota to attend Dunwoody Institute.
After returning home, I got married in 1982, had a daughter in 1984 and a son in 1985. I take pride in the fact that I built my personal and professional life around this neighborhood. Not only am I L-1 certified by A.S.E. but am skilled in carburetor rebuild, emission issues and diagnostics. Working on classic and vintage vehicles is where my heart is. After my dad retired I bought the business from him.
I'm proud to be third generation small business owner in South Scottsdale.